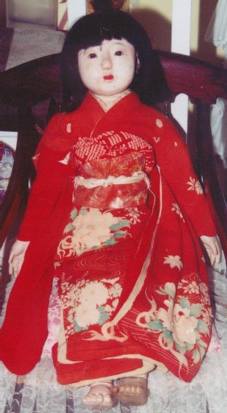 Elaine Christiansen, the owner of Miss Aomori, wrote the following in November 2003:

This has been a very exciting three years for my husband and me since finding out our doll was a treasure. When I purchased her, I had no idea of her history or her past. Unfortunately there is very little known about Miss Aomori's past from 1927 to 1963.

Our story began in 1963 when I went to an antique shop in Dartmouth, Massachusetts. It was a small shop, but the owner had very good antiques, so I usually went to this shop every week. One week I asked if she had any antique dolls, and she went to her house, which was on the same property, and brought out a very lifelike Japanese doll. When I saw her, I knew I had to have her, so I purchased her for $10. Upon closer inspection of the doll, I noticed she had one foot and one sleeve of her kimono missing. My father, Edward Walega, was a woods craftsman, and he fashioned a foot for her out of walnut to make her complete.

She was displayed in our home for many years. We knew she was special but could not find any information about her until 1986. An antique dealer in New Bedford, Massachusetts saw an article about the Japanese Torei Ningyo and informed us about it. The article only reinforced our belief that our doll was very special but did not go into the detail needed to fully explain her story.

We still tried to find more information about her, and she held a special place in our house. Our visitors always complimented her.

One night in June 1999, my husband was on the Internet and found an Internet site for antique dolls. He gave a description of the doll and asked if anyone had any information about her. A woman replied and suggested we contact J.A.D.E. (Japanese Asian Doll Enthusiasts). We did.

We received an answer to our inquiry from Ms. Rosie Skiles, an authority on the Japanese Torei Ningyo. We telephoned her and she asked us several questions. We authenticated the doll between the questions and photographs we sent to her. At this time we knew she was authentic but did not know her name.

Ms. Skiles asked if she had our permission to send the information to Ms. Michiko Takaoka. We agreed.

Correspondence was ongoing between Rosie Skiles and Michiko Takaoka. In August 1999 we received an e-mail from Rosie asking us to call Michiko as she had news for us and had tried calling us that day. When we called Michiko, she informed us our doll's name is Miss Aomori and that the doll in Rochester, New York was not Miss Aomori although she had the stand with her name.

Michiko and Hiroshi Takaoka visited us on April 21, 2000 to see Miss Aomori. We were honored to have them visit us. While they were here, Michiko re-dressed her in her proper style.

There has been two newspaper articles written about her. The first appeared in 1999 in the Yomiuri America and the second appeared in the February 2001 To-o Nippo Press.