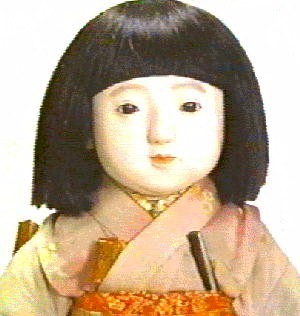 Location

Cleveland Museum of Art (Cleveland, Ohio)
Miss Gifu's Story
It became known that this doll sent from Gifu Prefecture 70 years ago as an expression of thanks for the "Blue-eyed Dolls" from America was being kept at the Cleveland Museum of Arts in Ohio. It was decided that Miss Gifu would return to Japan in order to repair some damage to her. Sachihiro Nagaoki, a teacher at Meitoku Elementary School, went to the U.S. (May 21-24, 1995) to take care of the doll, and he accompanied the doll on its return to Japan.
An assembly attended by many children was held to greet Miss Gifu.
When the repairs to Miss Gifu were complete and she was ready to return to America, a Japanese doll named "Ayu," made through the donations of another grassroots movement, was sent to America. On September 25 at a reception of the prefecture-sponsored "Doll Committee" held at Mirai Assembly Hall, representatives from the school staff and the students participated, and at the meeting Meitoku Elementary School received a doll as a present from the state of Ohio. Afterwards, the student group solicited from the entire school ideas for a name for the doll, and it selected the name "Sarah" from among the suggestions.
On October 6, an all-school assembly was held to send Miss Gifu and her younger sister "Ayu." On that occasion, a request was made by Henry Morozumi, a Japanese man living in Cincinnati who had come to Japan, to consider establishing a relationship with a Cincinnati elementary school. A "New Blue-eyed Doll" named Marion was given to Meitoku Elementary School on March 1 by Mr. Gulick, 3d, who knew about various activities concerning the dolls. In addition, Cincinnati's Kilgore Elementary School was recommended as a friendship school.
On April 24, 1996, a letter arrived from Catherine Swann, principal of Kilgore Elementary School, that she wanted to establish a Friendship School relation between Kilgore and Meitoku Elementary Schools. In the first part of May, a message from Principal Kotaro Maruyama and student letters, drawings, and calligraphy were sent to Kilgore Elementary School.
In September, children's works and a message from the principal were sent again to Kilgore, this time brought there by a group visiting Cincinnati. We inquired about establishing an Internet home page, and we are making preparations so that future exchanges will go smoothly.