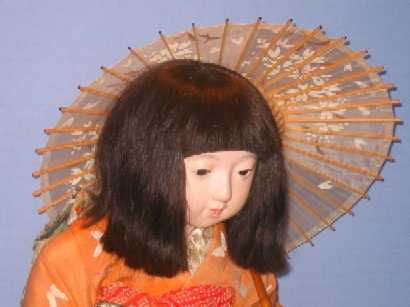 Location

Springfield Science Museum (Massachusetts)

Display

The Springfield Science Museum does not usually have Miss Oita on display, but she was part of a special holiday display called "Visions of Sugarplums: Dolls, Trains, and Toy Soldiers" (Nov. 15, 2002 to Jan. 5, 2003).

Magazine Article
The following article is reprinted from the
November & December 1996 issue
of Doll Castle News:
During the 1920s, an American missionary organized a doll exchange program to foster friendship between the United States and Japan. The Japanese dolls that came to America were given to museums across the country. One of these rare dolls, "Miss Oita," is in the collection of the Springfield Science Museum in Springfield, Massachusetts.
This summer, after nearly 70 years in the United States, Miss Oita visited Japan where she was one of the centerpieces of a special exhibition at the Yokohama Doll Museum.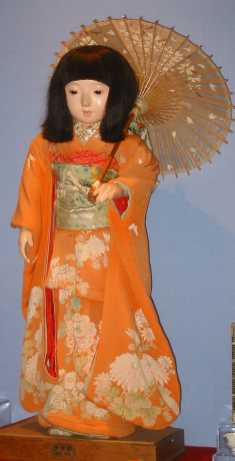 Creating and displaying beautifully-crafted dolls is an honored tradition in Japan. On March third each year, families celebrate "Hina Matsuri," the Festival of Dolls. Sidney Gulick, a missionary in Japan from 1888 to 1912, used the Japanese people's love of dolls as a tangible symbol of friendship between the two countries.
In 1926, in response to tensions arising from stringent anti-Japanese immigration laws, Gulick organized the Friendship Doll program and encouraged Americans to send dolls to Japan as ambassadors of goodwill. His efforts were so successful that nearly 13,000 "blue-eyed" dolls were collected and sent to Japan in 1927. Each doll carried a passport, steamer ticket, and message from the donor. Many were given places of honor in schools and institutions, while others became the prized possessions of Japanese children. The dolls who said "mama" and whose eyes opened and closed were especially valued.
To reciprocate, the children of Japan sent 58 dolls, made by the country's finest artists, to the United States. The dolls represented each of Japan's prefectures, largest cities, and colonies. These "black-eyed" dolls were paid for with small contributions by 2,600,000 Japanese children. Each doll arrived with accessories, a passport and a first class ticket from Yokohama to San Francisco. The dolls toured in groups of six to America's largest cities, and then in smaller groups to other regions of the country. Following their national tour, they were given permanent homes in American museums.
The Springfield Science Museum's Miss Oita is named for Oita Prefecture. She is 33 inches tall, has human hair, and arrived with a complete set of accessories, including trunks, chests of drawers, lamps, a tea set and other furnishings. Miss Oita wears an orange, floral design embroidered silk kimono tied with a green silk obi.
In 1995, Kaoru Kanetaka, president of the Yokohama Doll Museum, came to Springfield to see Miss Oita. In a subsequent letter to John Pretola, curator of anthropology at the Science Museum, she wrote, "I have had many opportunities to see return dolls first hand in America, but I was deeply moved when I visited your museum and saw how Miss Oita had been kept in such beautiful shape for almost 70 years. If we are able to borrow a return doll from an institution such as yours, with its appreciation of the value of the U.S.-Japan doll exchange, it would be an extremely rare opportunity for us. We sincerely hope to be able to give Miss Oita a first-ever homecoming in Yokohama, the place where it embarked on its journey."
During World War II, many of the exchange dolls were destroyed in both the United States and Japan. Miss Oita is one of just 27 Japanese Friendship Dolls known to still exist in this country, and only around 250 of the blue-eyed American dolls have survived in Japan.
When Miss Oita returned from Japan at the end of summer, she rejoined the Science Museum's collection of 2,000 dolls from around the world, where she holds a place of honor as a symbol of international friendship and peace.