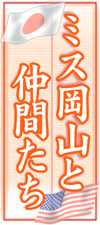 Miss Okayama
and Her Friends

4 - Miss Hiroshima
Precursor to Homecoming to Japan
Attended to With Kindness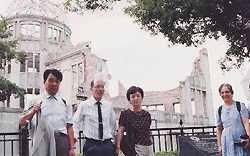 | | |
| --- | --- |
| | Sidney Gulick, 3d (second from right), who visited the Atomic Bomb Memorial Dome in 1997 |

In 1974, when few people knew about the Japanese-American doll exchange of 1927, "Miss Hiroshima" returned to Japan in the hands of Mary Toku Sugiyama, a Japanese-American who lives in the state of Maryland. The homecoming of this Ambassador Doll was prior to the doll's repair.

Ms. Sugiyama, who was working in the American office of Ikebana International, planned a "World Dolls and Ikebana Exhibition" as a member of the planning committee for local events to celebrate America's 200-year anniversary. She went to Japan to find out about the restoration of Miss Hiroshima, who would be one of the highlights of the exhibition.

Ms. Sugiyama, who visited the Hiroshima Prefectural Governor, was introduced to the Yoshitoku Doll Company in Tokyo. Miss Hiroshima, just like Miss Okayama, is the work of Koryusai Takizawa. Tokubei Yamada 10th, prior president who was 80 years old at the time, gladly accepted the unexpected request to restore the doll, "it was natural for us to take care of the doll since we were the ones who had handled the original Ambassador Dolls."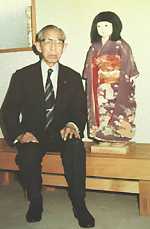 | | |
| --- | --- |
| Miss Hiroshima prior to her homecoming to Japan for repair and Tokubei Yamada 10th (1974) | |
During World War II when Ms. Sugiyama's "two home countries" were fighting, Miss Hiroshima, who was in the basement of the Baltimore Public Library, was entrusted to Ms. Sugiyama. Fears grew "that something might happen if someone saw the doll," and she hid it in her house. After the war, Miss Hiroshima was moved to a museum, and later it seems the museum was going to sell the doll to collectors. But she persuaded the museum, "Do not sell for money this doll filled with the friendship of Japanese children."

Miss Hiroshima is kept with care now in the Baltimore Museum of Art. Ms. Sugiyama says, "My mother, who passed away a year ago at 99 years of age, also thought of Ms. Hiroshima as our child."

Miss Hiroshima was the doll given in gratitude for the 326 "Friendship Dolls" delivered to Hiroshima Prefecture from America in 1927. Miss Hiroshima left for America to arrive for Christmas of that same year. A joint exhibition of "Friendship Dolls" was held at the Hiroshima Prefectural Industrial Promotion Hall (now Atomic Bomb Memorial Dome), but 18 years later the hopes for friendship and peace that the children entrusted to the dolls were shattered by the dropping of the atomic bomb.

Sidney Gulick, 3d (65), professor at the University of Maryland and grandson of the American missionary who advocated the doll exchange, lives in Maryland, where Miss Hiroshima is located. He explains, "There are no winners in war. We all want peace and friendship." During the summer four years ago he visited Hiroshima on the anniversary of the dropping of the atomic bomb and went to such places as the Atomic Bomb Memorial Dome.

(published December 4, 2001)
---